UNIPPIN: An integrated human protein-protein interaction network
The group has been collecting and integrating protein interaction data from different major protein-protein interaction (PPI) databases and high-quality experimentally determined PPI data. By integrating all these data sources we compiled a Unified PPI network (UNIPPIN) for our analyses, ranging from extraction of topological features to mapping of genetic variants, protein-protein complex structures and protein-ligand interactions (drugs and allosteric ligands).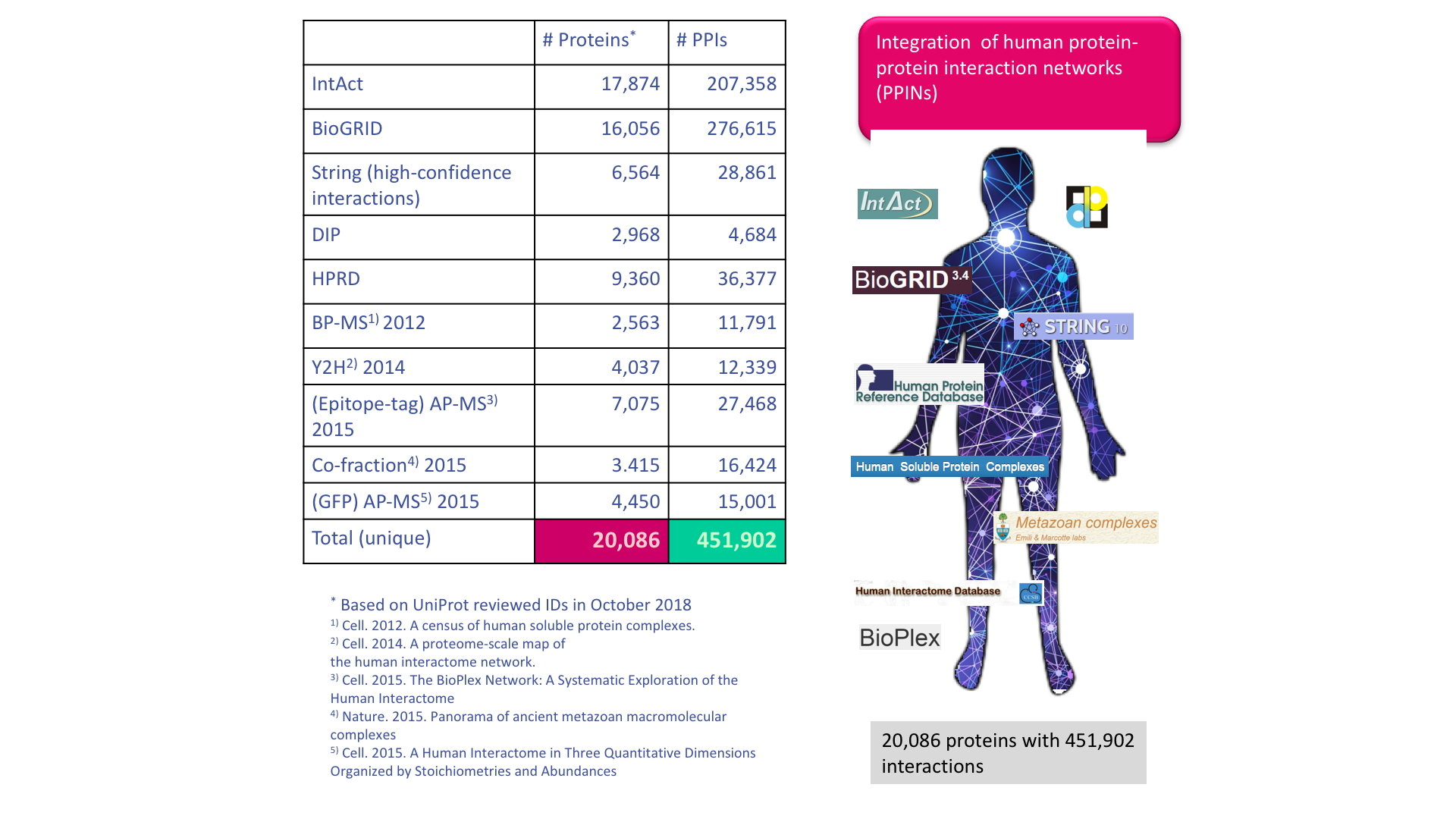 Representative publications on Protein-Protein interaction networks from the group:
Anna Laddach, Sun Sook Chung and Franca Fraternali (2019) Prediction of Protein-Protein Interactions: Looking Through the Kaleidoscope. In: Ranganathan, S., Gribskov, M., Nakai, K. and Schönbach, C. (eds.), Encyclopedia of Bioinformatics and Computational Biology, vol. 2, pp. 834–848. Oxford: Elsevier.
Laddach A, Ng JC, Chung SS, Fraternali F. (2018). Genetic variants and protein-protein interactions: a multidimensional network-centric view. Curr Opin Struct Biol. 2018 Jan 4;50:82-90. doi: 10.1016/j.sbi.2017.12.006. [Epub ahead of print]
Chung SS, Laddach A, Thomas NSB, Fraternali F. (2018). Short loop motif profiling of protein interaction networks in acute myeloid leukaemia. bioRxiv. doi: 10.1101/306886
Chung SS, Pandini A, Annibale A, Coolen AC, Thomas NS, Fraternali F. Bridging topological and functional information in protein interaction networks by short loops profiling. Sci Rep. 2015 Feb 23;5:8540. doi: 10.1038/srep08540.
Carlin LM, Evans R, Milewicz H, Fernandes L, …, Fraternali F, Ameer-Beg S, Parker PJ, Thomas NS, Ng T. (2011). A targeted siRNA screen identifies regulators of Cdc42 activity at the natural killer cell immunological synapse. Sci Signal 4(201):ra81. doi: 10.1126/scisignal.2001729.
Fernandes LP, Annibale A, Kleinjung J, Coolen AC, Fraternali F (2010). Protein networks reveal detection bias and species consistency when analysed by information-theoretic methods. PLoS One 5(8):e12083.